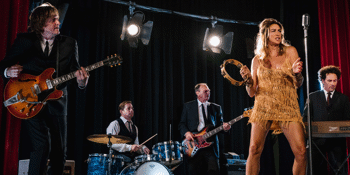 The Soul Movers
The Bridge Hotel, Castlemaine (Castlemaine, VIC)
Friday, 29 March 2019 9:00 pm
The Soul Movers deliver the new single 'You Better Believe It' from their forthcoming new album 'Bona Fide'
The Soul Movers, a Sydney based five-piece rockin' soul outfit, are proud to announce the release of Bona Fide - their 3rd album - due for release through ABC Music on March 15, 2019.
The album was recorded across seven iconic US recording studios from Muscle Shoals, Alabama, via Memphis to Nashville, TN. Those include Fame, Muscle Shoals Sound, Royal and Sun Studios.
Featuring powerful songs (and a cameo by the DZ Deathrays in 'You Better Believe It!) this sound appeals to empowered people with a love of original grooves and analogue sounds. Offering a span of traditionally American sounds, seen through an Aussie lens, including Pop-rock, Blues, Southern Soul and Gospel.
Not many Aussie outfits can claim to have made the Swampers groove (bass player David Hood , keys-man Spooner Oldham) as they recorded together in their studio at Muscle Shoals – The Soul Movers can.
Each track has been crafted by The Soul Movers with love, care, experience and know-how. And in the tradition of songwriting as it should be – fully formed, captured and delivered by musicians al the top of their crafts. From their souls to your ears, listen and be transported back to the time and place where this music all began.
In the words of Lizzie Mack, about the single 'You Better Believe It' -
You Better Believe It! Is a reminder of where we are in the spectrum of musical time. A fusion of old and new it casts back to a time when half of America was clapping along with Soul Man Otis Redding or Wilson Pickett singing "naaah an na na na".
In 'You Better Believe It!' The Soul Movers are reminding us that looking back is important but that looking forward to a fairer future, that includes women's voices, is the best way to roll.
With horns in the right places, the cool grooves of legendary drummer Milton Sledge and the instantly recognisable Hammond organ of Muscle Shoals Studios, mixed with the super chops of the Swampers, you BETTER Believe It - cuz this track has hit written all over it. "
FAST FACTS
+ The Soul Movers are a Sydney based five-piece soul outfit featuring Murray Cook (ARIA Award Hall of Famer and Ex-Red Wiggle) plus Lizzie Mack (vocals and main songwriter) teamed with accomplished core musicians Andy Newman (bass) and Marko Simec (keys).
+ Bona Fide was produced by Lizzie Mack with Murray Cook, Alex Keller (AU) and Jimmy Nutt (USA) and features collaborations with many talented and experienced American recording musicians as well as the Swampers.
Bona Fide is their 3rd album due for release through ABC Music on March 15, 2019.