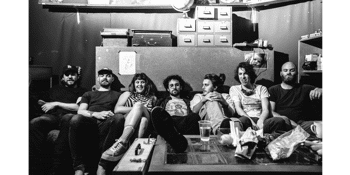 The Seven Ups
The Bridge Hotel, Castlemaine (Castlemaine, VIC)
Friday, 10 December 2021 9:00 PM
Melbourne's 7-piece heavy groove combo, The Seven Ups, are releasing their fourth studio album, titled: The Old World. The latest offering from the band is an abstruse journey into the darker fringes of instrumental music, drifting from funk to spiritual jazz and through to psychedelic fuzz rock.
Inspired by the catastrophic year that was 2020, the bands recording sessions were rescheduled three times due to extended Melbourne lock downs, before finally being recorded in November 2020. The album's title, The Old World, refers to life before the onset of the pandemic which shattered 21st century humanity's sense of stability and invincibility. Arcing back to the simplicities and blissful ignorance that existed before the grim onset of empty supermarket shelves, deserted streets and a world locked down.
Released via Northside Records on limited edition, "night-sky" marbled vinyl, the band are taking the new album on the road with a show at The Bridge Hotel, Castlemaine on Friday, August 20
"Makes us remember how much we can love instrumental music."
- Wax Poetics USA
"As tight as they need to be, and as loose as you want them to be."
- DJ Miss Goldie, PBS fm
"The Seven Ups are damn near one of the most mesmerising acts playing around Melbourne at the moment."
– Alex Callan, Forte Magazine