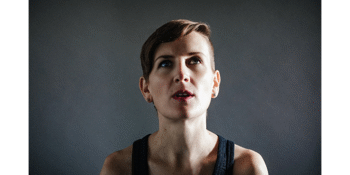 The Bridge Hotel, Castlemaine (Castlemaine, VIC)
Saturday, 9 March 2019 9:00 PM
Mia Dyson and her band are touring her Australian Music Prize longlisted album, If I Said Only So Far I Take It Back at The Bridge on Saturday March 9, 2019.
Growing up in the Australian bush and in the sleepy beach town of Torquay, Mia Dyson became fascinated by the mythology of American rock & roll when she was just a kid. "I was raised listening to American music almost exclusively—my dad was a big blues fan, my mom loved Bob Dylan and all the poets," says the L.A.-based singer/songwriter. "Very early on I was aware of all the places in America where this incredible music was made, like Memphis and Detroit and Muscle Shoals."
Since releasing her debut album at age 22, Dyson has instilled her own music with raw passion and timeless vitality, along with the sharp musicianship she's shown in opening for artists like Bonnie Raitt, Stevie Nicks, and Eric Clapton. In making her forthcoming sixth album If I Said Only So Far I Take It Back, Dyson deepened the connection to her musical roots by recording at Portside Sound: a studio in the same Muscle Shoals building where legendary records by the Bob Dylan, Joe Cocker and Steve Winwood came to life.
Dyson first made her way to Muscle Shoals in spring 2016, shortly after crossing paths with singer/songwriter John Paul White (a Muscle Shoals native and former member of Civil Wars). Instantly enchanted by the much-fabled place, she soon joined forces with Alabama Shakes keyboardist Ben Tanner, who produced If I Said Only So Far I Take It Back with Dyson's longtime drummer Erin "Syd" Sidney. As the first of Dyson's albums to be released through a label (White and Tanner's Single Lock Records), If I Said Only So Far I Take It Back is the latest addition to a catalog including 2014's Idyllwild (praised by such outlets as Rolling Stone Australia) and 2012's The Moment (an ARIA Music Awards nominee for Best Blues & Roots Album).
Throughout If I Said Only So Far I Take It Back, Dyson adds a stylistic unpredictability to her soulful, introspective strain of rock music. The result is an album offering her most frenetic guitar work and delicate vocal performance yet—a dynamic that echoes her examination of conflict and acceptance. "In the past few years I've gotten into meditation and studying philosophy, and through that I've found that whenever I'm against something, I suffer," Dyson says in discussing the album's themes. "My mission now is to be open to the world as it is, especially at a time where there's so much division. Which isn't to say I don't want change—but in the moment I've got to be open to what's really going on, instead of always fighting against it."
Though Dyson has brought an uncompromising intimacy to all her albums, If I Said Only So Far I Take It Back unfolds with a greater vulnerability than she's ever embraced before. "There's a lot more admitting to fear and failure, all the things I want to hide so I can try to look shiny," she notes. Dyson traces that deeper honesty to her newly adopted songwriting approach, which hinges on co-writing lyrics with her husband, Karl Linder. "Karl and I got married six years ago, but I didn't know he wrote poetry for a few years into our marriage," says Dyson. Once she'd read his work, Dyson began setting his poems to music, an endeavor that quickly sparked their creative partnership. "We just discovered this crazy ability to write together," she says. "I've tried co-writing with so many people, but with Karl there's a rhythm and flow to everything that I've never experienced before. It always feels like we're getting the best of both of us."
An album charged with the kinetic energy of exploration, If I Said Only So Far I Take It Back was also closely shaped by Dyson's intense collaboration with Sidney and Tanner. Throughout the production process, the three musicians achieved a thrillingly expansive sonic palette and brought a graceful inventiveness to each guitar element. In sculpting that stripped-down but intricately detailed sound, they enlisted musicians like David Hood: the bassist for the Muscle Shoals Rhythm Section, who played on classic songs like The Staple Singers' "I'll Take You There" and Wilson Pickett's "Mustang Sally."
In another major departure for Dyson, If I Said Only So Far I Take It Back often finds her vocals attaining an unguarded fragility, a quality especially evident on the quietly anguished, string-adorned opening track "Being Scared." "I used to always make a point of showing my power through my voice, but for a song like that—about how there's no end to being scared—it felt much more truthful to sing gently," she says. "So many of these songs dictated a new way of singing, even if it made me a little uncomfortable."
Although Dyson brings an equally tender vocal delivery to songs like "Beloved," If I Said Only So Far I Take It Back occasionally erupts into glorious chaos. With its fuzzed-out fury, "Nothing" makes for an unlikely anthem about what Dyson describes as "that raging to have everything go a certain way, and then finally seeing that things are perfect just as they are." "Gambling" sets a swaggering rhythm to its reflections on rootlessness and risk ("It's not a waste of time/To play without a victory/It's not a wasted life/To be without a history"), then drifts into a joyful frenzy of layered guitar tones. Another moment of shining defiance, "Open" again proves Dyson's extraordinary magnetism as a guitarist. "Recording that song, I just started playing wrong notes on purpose and trying out really jagged sounds," she says. "As a female my conditioning tells me, 'Don't be ugly with music—be pretty!' But there's something about bucking against your conditioning that feels so good."
Endlessly shifting in sound and mood, If I Said Only So Far I Take It Back also includes tracks like "Fool": a brightly uptempo number whose shimmery synth tones brilliantly contrast with its message of owning up to self-doubt ("I tell myself/Not to be a fool/It comes so naturally to me/It's all I'll ever be"). And on "Everything is Waiting for You,"
Dyson closes out the album with a warm meditation on the promise of hope. "I wrote that right before my nephew was born, thinking about him or any baby coming into the world today," she says. "It felt like a nice bookend to 'Being Scared'—both those songs are like a little loving prayer."
From track to track, If I Said Only So Far I Take It Back shows the nuanced musicality that Dyson's honed since taking up guitar at age 13. "My dad was a guitar maker, and as soon I started playing I fell in love with it," she says. Naming Little Feat and The Band among her earliest influences, Dyson soon began writing her own songs and discovering the strength of her vocal range. By the time she'd made her self-released debut with 2003's Cold Water, Dyson had spent several years developing her live show by gigging in Melbourne bars. Between her sophomore album Parking Lots (winner of the Best Blues & Roots Album prize at the 2005 ARIA Awards) and her third full-length Struck Down, she was selected to support Eric Clapton on a 2007 tour of sold-out stadium crowds. That same year, she also opened for Bonnie Raitt, a major milestone both career-wise and on a more personal level. "When I was younger I looked up to guitarists like Jimi Hendrix and Kurt Cobain, but I couldn't see myself in them," says Dyson. "Seeing Bonnie Raitt with her guitar strapped on her back was what made me feel empowered—she was a huge role model for me."
Since moving to Los Angeles in 2010, Dyson's triumphs have included opening for Stevie Nicks at the Santa Barbara Bowl, in addition to self-releasing Idyllwild and The Moment to critical acclaim. Now gearing up for a 2018 tour of the U.S., she's also constantly carving out new material, both in her continued collaboration with Linder and on her own. "When I find a melody and lyric that land just right, it's the most exquisite feeling," she says. "It's like there's this truth that I wanted to express but didn't quite know how, and somehow it suddenly just comes through me. Writing songs is a kind of magic catharsis, and that's what hooked me on it from the very start."